Festivities a fun showcase for downtown Englewood
August 7, 2018
BY HILLARY VIDERS
SPECIAL TO NORTHERN VALLEY PRESS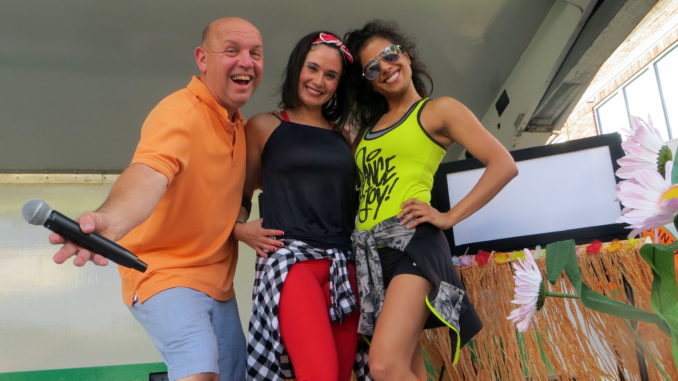 Emcee Johnny Mac hams it up with Zumba performers Jahaira Ortiz Olowe and Saloney Ginger Chandra from the bergenPAC.
Englewood, New Jersey—True to Englewood's tag line, the city was "A Place for Everyone" July 26 to 28 when the Englewood Special Improvement District and Town Motors presented the annual Summer Fest and Sidewalk Sale.
The events drew crowds from around Bergen County who enjoyed the festivities as over 80 stores, nonprofits, and restaurants transformed downtown Englewood into an ultimate shopping destination.
On Thursday, a steady parade of residents and visitors strolled up and down Palisade Avenue and around Dean Street, where vendors offered special savings on shoes, jewelry, clothing, beauty and skin care products, fitness memberships, housewares and sundries, and much more.
Executives from local institutions greeted the public, including: Bergen Performing Arts Center, Bergen Family Center, the Englewood Department of Health, Woman's Club of Englewood and other organizations and businesses.
In addition to the three-day shopping extravaganza, on Thursday evening, there was a lively street celebration with music, food, dance and fitness exhibitions, face painting and airbrush tattooing and a plethora of free giveaways.
Numerous restaurants along Palisade Avenue offered delicious foods, including: It's Greek to Me, Baumgart's, Anthony's Coal Fired Pizza, Emma and Blue Moon Cafe. For those with a sweet tooth, there was no shortage of desserts, including: ice cream treats by Lucky Roll, crepes and croissants by Patisserie Florentine, cupcakes from Cupcakes by Carousel, and Mr. Cory, the teenage culinary wonder, who sold his famous cookies.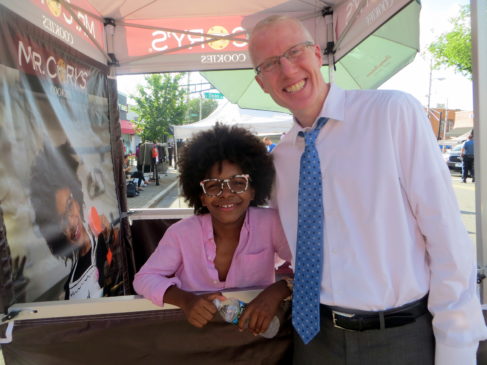 Mr. Cory and Englewood Chamber of Commerce Chairman Todd Brooks.

The evening festival dazzled the crowd. DJs Jerry D and Johnny Mac emceed the Thursday evening Summer Stage, where there were performances by the bergenPAC's Performing Arts School Zumba dancers, Tiger Shulmann's Martial Arts, Club Pilates, Progressive Dance and Kaeos Fitness. The atmosphere was so upbeat that some spectators spontaneously began dancing in the streets.
On Saturday, July 28, Veterans Park was transformed into a Kids Zone, where youngsters of all ages enjoyed bounce houses, balloon shapers, cupcake decorations, games, and crafts. There were also exhibit tables set up in the park, such as one from the Englewood Public Library, where Library Director John Arthur welcomed families and encouraged them to get library cards.
After three days of non-stop excitement at the Summer Fest and Sidewalk Sale, it was evident that the city of Englewood knows how to party!



This family had fun hunting for bargains in downtown Englewood.

Original article appears at: https://thepressgroup.net/festivities-a-fun-showcase-for-downtown-englewood/